Morning, everyone.
What a fantastic day's weather we had yesterday. So warm, sunny from dawn to dusk and a gentle breeze. Today looks like the same and on Thursday, possibly, we will have some rain. Can't complain about that.
After the SW online meeting and my chat with Chris, I plucked up the courage to start on the garden shed.
The black bin (not being emptied until a week tomorrow) is now chokka apart from just enough space for one more black bag of household rubbish. That will be enough as one person doesn't normally generate all that much refuse, not with all the other recycling boxes and bags we have.
To my delights, Jeff said he would be happy to take over the spare mower; I have two because the one I had was cable electric and then we needed to get a battery powered one for the allotment. I don't need two, nor do I have the space, so had decided to get rid of the former. It's in the garage now (one of only two items I moved to the garage - yay) so today I will get it out again and give it a good wipe down and clean up before he pick it up tomorrow.
I was surprised at a few discoveries. I found a few garden tools I had forgotten about and one I had been looking for, I now have enough write-on garden labels to last a lifetime and, maybe best of all, a little bucket barbecue, very similar to this (photo copied and pasted from Images)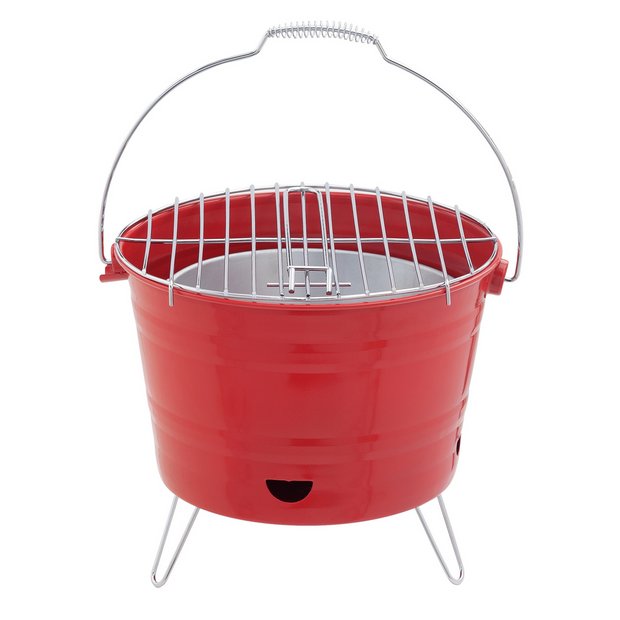 I've put charcoal on my shopping list for Friday and, assuming the weather lasts, I will plan in a mini barbecue over the weekend as a treat.
One nice thing is that it will be very easy to keep clean, being so small.
I have one corner and the shelves still to sort out and any rubbish from that will have to sit in black bags for eight days until the bins are emptied, unless I can find a neighbour with space in their bin.
All in all, a very satisfying day's work and it's good to have room in the shed again and to be able to get at my garden table. That will go up today under the tree so I can eat outside in comfort.
I went to water the allotment early evening. All is still well. There's a few evil weeds daring to come up so they are on the list. Apart from them, mowing and watering, there's a bit of a lull in the work right now, which is nice.
Today, I plan to get to the garden centre when it opens and invest in some large pots and then get them filled with soil. I'm using a mix of potting compost and garden compost from the bottom of the compost bin. It makes a lovely, tactile mixture and I hope the tomatoes like it.
I'd like to get that last little bit of the shed sorted out and then I can decide where things can go for most efficient use. I also need to sort out various small garden 'things' and put them into separate little boxes (I have plenty!!) - thing like those garden labels, string and twine, cane toppers, etc. I also have a good collection of the lovely Wolf Garten tools and detachable handles and I need to get them sorted and into plastic boxes so they don't get lost under other things.
I reckon that's enough to keep me out of trouble for most of the day. The elephant wasn't as indigestible as I thought it would be, thankfully.
Have a good day, everyone. Stay safe and - what's the latest? - alert! xx