Good morning and welcome to a rather chilly start to a new week. Wasn't it a gorgeous day yesterday? It certainly was here with wall to wall sunshine and an open back door to air the house. As the skies were clear, come sunset it got jolly cold again and this morning is a bit nippy.
As expected, yesterday was great. I spent the morning in the kitchen concocting the lasagnes and getting things ready for lunch and the afternoon was taken up with sewing. Beth started an owl and I got on with a patchwork waistcoat we are making on order for someone. It's going to look really nice when done, I think, although I was very nervous about cutting into the patchwork we had so carefully pieced together!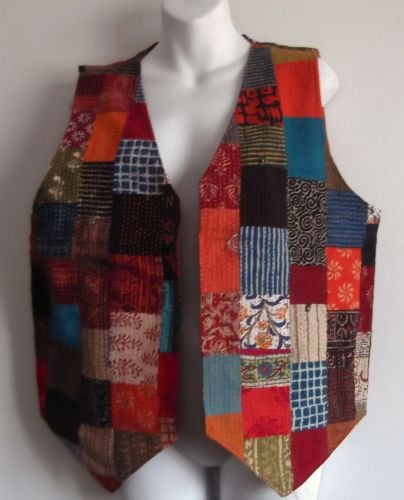 This is borrowed from Google but it will look a bit like this only longer (and different colours, of course). The lady for whom we are making it took the pattern from an existing waistcoat and sent it to us.
In the evening I received a text message asking if I could do another morning's teaching this week so now I am doing two mornings this week and two next week. Jolly good - it all helps the old finances!
Today is also busy. I am meeting up with a friend a.m. and p.m. I have a meeting with another friend. In between those two appointments, I need to make two loaves of bread. It's all go, isn't it?
Actually, to save a bit of time, I have started the bread now, just the autolysis. Thermione is now sitting in the fridge - the bowl part, I mean - and will be finished off later. The afternoon meeting is here so I can do whatever is necessary to finish the bread.
Well, I'd better got myself sorted out. There's still two hours before I need to go out but they can pass surprisingly quickly if I'm not careful. Have a great day, whatever you are doing.
Food today:
B: toast and marmalade - all home made, delicious
L: soup from freezer
D: not too sure. I need to look in the freezer and see what's there, I think.