So yesterday I went into town on a mission - to spend (if I could) my gift cards.
I had to check a couple because they were so old but, luckily for me, they were all still good.
So . . .
Debenhams: a nice wooden bread board, a splatter guard (my old one fell apart) and, because it was a money off day, I was able to make it up to £20 with two little boxes of Ferraro Rocher which will make most acceptable little gifts, always supposing I haven't eaten them first! One card down!
Then into Waterstones: after much enjoyable rootling around I bought Nigel Slater's 'Real Food' because it looks great. Normal ingredients, not stuffed with glossy coloured pictures to the exclusion of recipes and just really sensible looking recipes and lots of them. Delia is my hero but I do have a very soft spot for Mr Slater. Two cards down
Then I did a few boring but necessary things, such as paying in a couple of cheques and making a long overdue hearing aid appointment. I also went into Whittards and bought one of those ball shaped tea infusers.
Boots next: hearing aid batteries went in the basket. Then I treated myself to some lavender and jasmine soaps (I love the scent of lavender), some lavender body spray and a perfume stick. Perfect for this hot weather. Three cards down!
M&S was pretty crowded and I focused on the food area. I got some roasted garam masala powder because the current lot has nearly gone. Then I spotted one of their meal deals in the Chinese display cabinet. Two mains and two sides for £8. It was supposed to make two dinners but - blush - I've just finished it off for breakfast. Ooops. It was delicious though. The card lives to spend another day.
After some time picking strawberries (so relaxing) I went over the road to Abercorns and spent all my garden vouchers. Some plants, some plant food, two nice pots and a rake head (I have a system of tools where you buy the handles you need and the heads are interchangeable. Very sturdy, very convenient and I used the rake to good effect before sowing some seeds in my newly created veg bed last night. Just carrots and radishes for a quick return! I also got some tomato food, some herb food (I didn't know there was such a thing), some bug spray and a few bits and bobs. All useful stuff and a mixture of useful and spoiling.
If any of 'my' mums read this, thank you very, very much for the vouchers and I love what I have spent them on! Please pass that on.
So that was four cards down and one slightly battered.
And then I went home, had lunch and fell asleep for a couple of hours! I slept again in the evening and it's just as well I did because it was a most uncomfortable night, hot and humid and full of restless dreams and waking ups. Horrid really. We're now in the middle of a storm. Not a violent one but some lightning and thunder and some rain. It doesn't feel any less humid though - yet. Fingers crossed.
Providing the weather is OK, I plan to pot up my tayberry into one of the pots I bought and place it where it's going to be trained along the fence. No tying up yet as the fence has to be painted and anyway it's not big enough for that. Yet!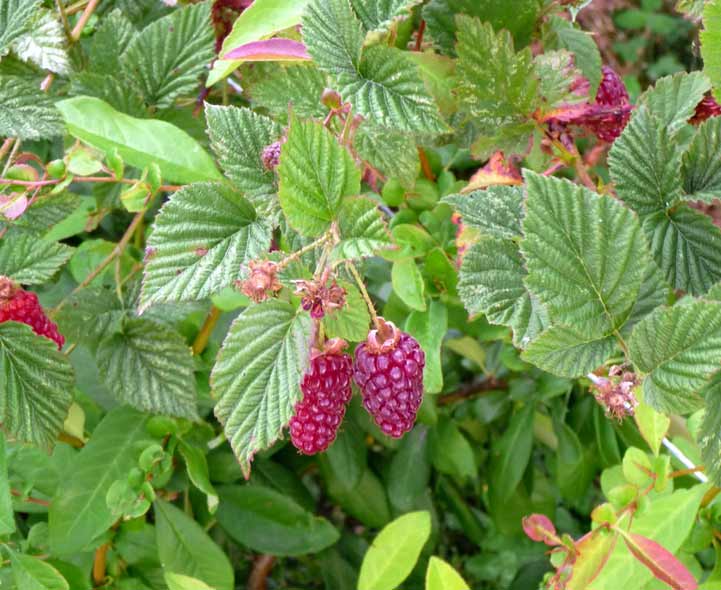 Borrowed from Google.
Here's what a tayberry looks like and this is what Wiki says about the tayberry.
Tayberry
(
Rubus fruticosus
x
idaeus
) is a cultivated shrub in the genus
Rubus
of the family
Rosaceae
patented in 1979 as a cross between a
blackberry
and a red
raspberry
, and named after the
river Tay
in Scotland. The fruit is sweeter, much larger, and more aromatic than that of the
loganberry
, itself a blackberry and red raspberry cross. The tayberry is grown for its edible fruits which can be eaten raw or cooked, but the fruit do not pick easily by hand and cannot be machine harvested, so they have not become a commercially grown berry crop. As a domestic crop, this plant has gained the
Royal Horticultural Society
's
Award of Garden Merit
.
When I was living in London decades ago we had a loganberry at the bottom of the garden and the tayberry reminds me a lot of that. It's not the same, as it says above, but both have blackberry in them. The loganberries made lovely jam.
Apologies for such a long post and congratulations if you've made it to the end without dozing off. Have a good, cool day.