I was sorting out my bag and found the receipt for the Wyvale shop when I bought one of the tomato plants. It's called Golden Pear Drop which I think is a lovely name and, contrary to what I told Diane, it is a cherry tomato, not a plum (so it says online anyway). It just looks like a mini plum tomato!!!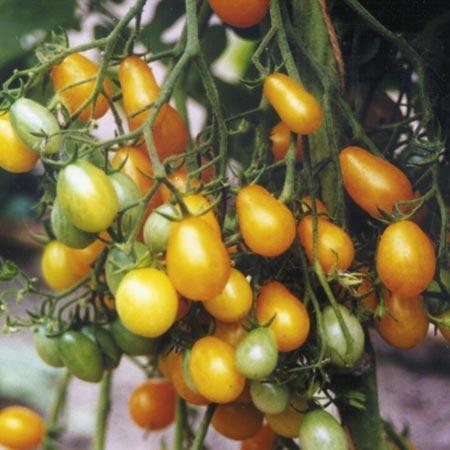 I found this picture online.
If mine ends up looking half as nice, I will be very satisfied. At the moment it's very green (well, it would be) but with promising little baby tomatoes and a lot of flowers . . . now we need some sun!
Fingers crossed.
And in other news, after saying I wouldn't be using the arches until next year, I put one together yesterday, just to check how and put it out and it looked so very nice that I have gone a-hunting online and bought a couple of passion fruit plants. They are both evergreen, which is ideal, both hardy, both like partial shade, one is pink and the other blue so they will go in the garden. I think I will now definitely use the other arch for runner beans. After all, runner beans were originally grown as flowering plants, not as a vegetable - I can use it as both!
The arch kind of changes the focus of the garden. It gives it a sense of having pathways rather than beds on a patio and it creates some height too. I rather like it and hope it will last for a few years anyway. If, after that, it gives up the ghost, I may consider spending rather more on something more substantial.